Installing retaining walls in your Kirkland home has both functional and aesthetic benefits. Choosing the right placement and purpose of your retaining wall can help regulate water flow throughout your property, increase your home's market value, and improve the overall atmosphere of your property.
At B&D Rockeries, we provide customer retaining walls for homeowners throughout King and Snohomish Counties. We design retaining walls for specific, difficult landscapes. Our professional team is familiar with different retaining wall construction methods and materials. Our designs deliver strong, durable walls that will last for decades to come, servicing homes and businesses throughout the Kirkland area.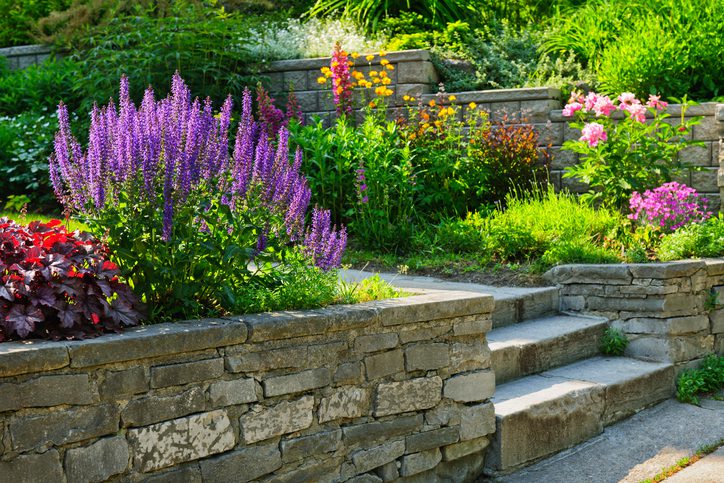 Kirkland Rock Walls
Our Kirkland retaining wall team is familiar with the most popular designs and materials, such as the popular non-cemented options. However, we have also worked with cemented walls, so we can handle any style and material you choose.
Our most beautiful rocks and blocks come from local quarries. We are a local business, and we are familiar with all the local quarries, which enables us to find the right colors, shapes, and sizes to match any style and color you choose while still providing the most competitive prices in the industry.  
Quarry rocks and blocks are an unique, limited resource. Finding the right rocks to match your design is priceless, because once a quarry is all used up, your wall will not be able to be replicated with other rocks.  
Retaining Wall Sizes in Kirkland
There are numerous rock and block sizes available, so you have a wide array of retaining wall designs to choose from. Here is a glance at some of the most popular sizes, and their benefits and advantages:
Half Man and One Man
One man and half man rocks are ideal to build a small wall. They are normally under four feet tall, and they require a lot of manual labor. Builders often use one man rocks and blocks for foundations, building the additional top layers with smaller rocks. Installing these retaining walls require a lot labor, which makes them more expensive.
Two Man and Three Man
These are the most common types of rocks used in retaining walls. Two man and three man rocks are easier to move and adjust with heavy machinery than smaller rocks. Heavy machines make labor a lot easier and faster, so retaining walls usually cost less when using rocks these sizes.
Boulders
Boulders come in all shapes and sizes, but they are not very common because they are hard to place and maneuver. However, they are still used in walls occasionally, and can be an awesome feature if placed correctly.
Our professional team has years of experience building and installing rockeries. We know how different kinds of rocks are meant to fit with each other, and that is what makes our services so valuable. Poorly designed and installed retaining walls will fall apart after a few years. At B&D Rockeries, our skilled workers build sturdy walls, that will be secure for decades to come.
Placing Your Retaining Wall in Kirkland
Your retaining wall's success is dictated by its placement and position. The water flow and overall landscape of your property will determine the best material and placement for your retaining wall. Our professional team can help you assess your landscape, and establish the best location for your new wall.
Cost of Retaining Walls in Kirkland
The cost of your retaining wall will depend entirely on the size of the wall, the type of rock used, and the design you choose. Our professional staff can help you examine each material and decide which is the best fit for your property. We can calculate the amount of materials and resources you will need, giving you an approximate estimate of the final cost.
If you are interested in learning more about installing a retaining wall in Kirkland, contact B&D Rockeries today. Our team of qualified experts will be more than happy to help you find the best retaining wall style, design, and material for your project. Reach us at 866.796.7801 or fill out our online contact form. Contact us today!
Other Locations We Serve:
Other Services We Offer in Kirkland
Kirkland Hardscaping | Kirkland Rockeries | Kirkland Retaining Walls