Looking to transform your property in Shoreline, Washington? B&D Rockeries installs unique
rockeries
and retaining walls in Shoreline and the greater Washington area.
Keep reading and learn more about:
Our client collaboration process and services.
The types of rockeries and retaining walls you can get.
Adding water features to your property.
Our retaining wall installation services in Shoreline.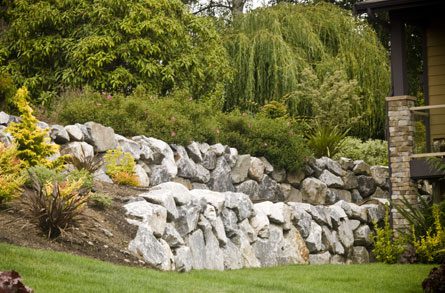 Shoreline Retaining Walls
All our retaining wall and landscaping jobs start with the same first step: getting to know our client and what they want. No two properties or customers are the same. That's why we take the time to figure out exactly what you want and collaborate with you to articulate that vision. Then, we take your desires and turn them into reality!
Will your shoreline retaining wall be used to control water flows on your property? Do you want it to guide footpaths or split your yard into different areas? Are you looking for a functional retaining wall, or do you just want something decorative?
Answering questions like these help inform our Shoreline retaining wall installation process. These answers also help us determine what materials to use, where and how to place your retaining wall, and the cost of your retaining wall project.
Let us help you figure out what you're looking for and the best way to do it. Schedule a free onsite estimate with B&D Rockeries to find out more.
Shoreline Rockeries
We utilize a variety of natural materials to make your property look fantastic. Stones, plants, and water are three of our favorite natural resources we use for landscaping and rockery design.
Stones. Whether used for a rockery or a retaining wall project, we select unique rocks stones just for that job. We source our stones from local rock quarries. This means your retaining wall or rockery is a one-of-a-kind design.
Plants. We use trees, bushes, and other foliage to integrate nature into your yard's landscape. Add life to stone and rock with perennials or patches of low-light plant life. Ask us about some of the other kinds of plants – like ground covers, woolly yarrow, and rock cress – that B&D Rockeries can add to your Shoreline home.
Water Features. Bring peace and beauty into your yard with a fountain, fall, pond, pool, or other piece of water art. Waterfalls and other water features can regulate existing water for throughout your property, or they can just be added for aesthetic value.
Retaining Walls in Shoreline
Do you know what type of retaining walls you want to be installed on your Shoreline property? Here's a look at some of our popular retaining wall solutions:
Half Man & One Man Retaining Wall. These are short walls that are four feet tall or less. Larger sized rocks are used for the base and small stones are placed on top. They're ideal for smaller jobs. When you opt for a half man or one man retaining wall, the manual labor workload is heavier, so the project may take longer.
Two Man & Three Man Retaining Wall. This is the most common type of retaining wall we do. We use heavy machinery to move and position these gigantic rocks, which can sometimes allow the project to be completed more quickly.
Boulders. We can source boulders for your Shoreline retaining wall. However, these large rocks can be hard to find and difficult to work with.
Retaining Wall Installation in Shoreline Washington
Get your rockery installation started with B&D Rockeries. Our team of qualified contractors is here and ready to serve you. Check out our work and contact us for a free quote.