New Life Rockeries offers a range of different landscaping services meant to enhance the natural beauty of your yard. One of our favorite ways to beautify your yard is through rockeries and rock design. Rockeries add a unique touch to any yard and can be used to achieve varying aesthetics, add elegance, or increase a natural ruggedness throughout your yard. Rockeries are extremely versatile and can be used in any yard to add natural beauty and design.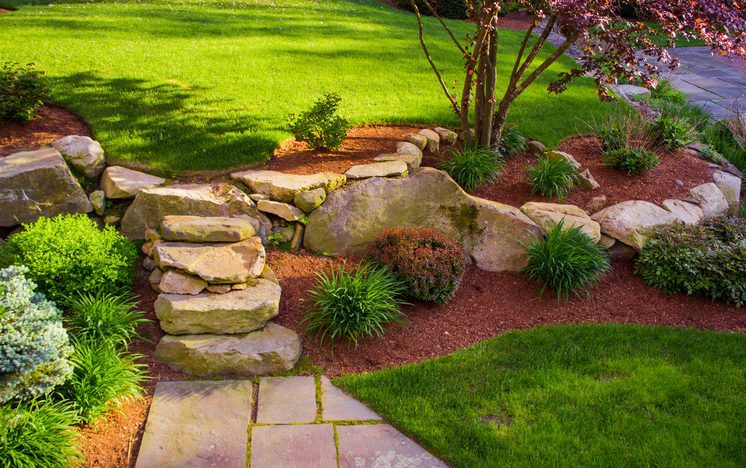 Materials Used in Our Rockeries
At New Life Rockeries, we have a team of skilled landscape experts who will analyze the specific layout of your yard and come up with a rockery design best suited to match your aesthetic and practical needs. We will create a rockery design tailored for your yard and find the best materials to create your landscape masterpiece.
Our team of landscape experts uses a variety of different materials to create our rockeries and would be more than happy to hear your input on what materials you find most attractive. This selection of materials gives us the ability to further tailor our rockery designs to match your home and yard. Here is a brief description of the different kinds of materials we use:
Stone Options
Because of the versatility of stone in both color and size, this material is an incredible choice and is in high demand among many homeowners. Some of the most popular stones used in rockeries, water features or retaining walls are granite, sandstone, basalt, and limestone. These stones can come in a multitude of different sizes and can possess many wonderful shades and accent colors.
Plant Options
Plants have a way of adding vibrancy to any space and can increase the overall aesthetic appeal of your rockery greatly. By mixing plants with your rock or stone you will add color, texture, and life to your rockery or retaining wall. Well placed plants can entirely transform your yard and add a welcoming, lively touch to any space.
Make sure that you select plants that will thrive in your yard and climate. Things that can affect what plants you should choose are factors like temperature, shade, and soil.
Retaining Walls
Depending on the layout of your yard you may need a retaining wall to be installed along with your other rockery designs in your yard. Deciding whether or not a retaining wall is necessary for your yard may take a little discussion with your landscaping professionals. Retaining walls are generally used to keep soil from eroding and sliding into your yard, you will need to decide on the best material for your retaining wall for it to be effective and complementary to the rest of your yard.
Types of Rock Retaining Walls
At New Life Rockeries, our team of landscape experts typically use one of three kinds of rocks to create our beautiful and long-lasting retaining walls.
One Man Half Man Rock
One man or half man rocks are generally used for smaller retaining walls. The definition of one man and half man rocks is what can be easily moved by an average man with the assistance of a crowbar.
If you are having a one-man or half man rock retaining wall installed in your yard we will still send out a large crew to your home so that the job can be done efficiently in a minimal amount of time.
Two to Three Man Rock
Two or three man rocks are those that need to be lifted and installed using a machine. To build a retaining wall using two or three man rocks, you will need at least three guys to adequately operate the machinery necessary for the job.
There will be one guy on the ground, one guy driving the truck for materials, and one guy operating the lifting machine.
Boulders
Boulders are best used throughout your yard as a focal point or accent, rather than using them for a rock wall. Boulders possess rounder edges and a smoother surface, making them less practical for building rock walls. Boulders can still be used for their decorative qualities around your landscape.
Water Features
Along with rock gardens and rock retaining walls, water features are also an excellent way to add beauty to your landscape. Water features can be designed as simple ponds, calm pools, lively fountains, or flowing waterfalls.
Rock water features can enhance the artistry of your yard and help with cohesivity and design. Deciding where to place your water feature can add greatly to the overall aesthetic of your landscape and really adds the final touches to your yard.
Contact Us – New Life Rockeries of Lynnwood
Whatever rockery, rock garden, or water feature design you want to be installed in your yard New Life Rockeries has the expert crew and materials to get the job done. Having a rockery design in your backyard will add to the beauty of your outdoor space and make your home truly complete. To learn more about our services, contact New Life Rockeries today.