By working with the right retaining wall contractors and business in your area, you can design the dream home that you have been longing for. Made of everything from stone to boulders, retaining walls can seriously enhance the aesthetic appeal and functionality of your home.
At New Life Rockeries, we pride ourselves in providing our network of customers with the highest quality retaining walls, made of materials that they know will stand the test of time. Our retaining wall services are designed to provide functional and structural support, stop soil erosion, offer floor control, and prevent overall damage to your property.
Get in touch with our business today at (866) 752-1283 to request a free quote for your landscaping project!
Why Install a Retaining Wall Near Me?
While retaining walls can add to the aesthetics of your outdoor space, they are typically created as part of a landscape project for practical purposes.
Commonly made of rocks, boulders, or concrete blocks, these structures help hold back soil. However, they can also:
Make a slope in your yard functional
Improve water drainage and prevent floods
Prevent erosion
Been wondering "who are the best retaining wall experts & builders in my area?" Look no further than New Life Rockeries! Our retaining wall contractors can help make your landscape design and project come to life with natural stone sourced from local quarries.
Retaining Wall Contractors Near Me: Hiring the Right Team for Your Project
Looking for "retaining wall builders near me"? If so, you're in luck! New Life Rockeries is a business that serves Seattle, Everett, Snohomish, Mukilteo, Mill Creek, Bothell, and their surrounding areas.
Our contractors have extensive experience building both cemented and non-cemented stone walls made from beautiful rocks from local quarries. Better yet, we can help you find the exact rock color that best suits your vision for your project and, you'll never have to pay before the job is done.
Retaining Walls Near Me: The Three Main Types
While retaining walls serve the basic purpose of holding back soil, it's the type of rock, cement, or wood they're made of that can really add that extra detail to your landscape project. Here are some of the most popular types:
Gravity Retaining Wall
Designed to resist the pressure from the dirt behind them using their own gravitational force, a gravity retaining wall can be made of concrete, masonry, or brick blocks. This type of wall is wider at the base and has a sloped face. It can resist high lateral earth pressures and can be as tall as ten feet.
Cantilever Retaining Wall
Made using reinforced concrete, a cantilever wall has an L-shaped or T-shaped foundation which supports the vertical stress of the wall, allowing it to withstand the lateral earth pressure. This type of wall takes up very little floor space and can be as tall as 16ft.
Sheet Piling Retaining Wall
A sheet piling wall is most commonly used around bodies of water. It's quick to build and can be used for both temporary and permanent use. While it doesn't require any excavation, a sheet piling retaining wall is not easy to build on top of rocks or cobbles and, therefore, may be a more expensive alternative for your project.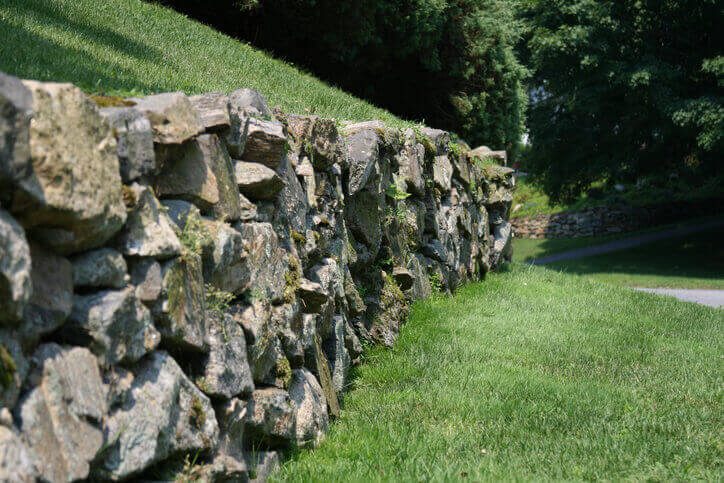 Why Choose New Life Rockeries for Your Project
Looking for the best companies that build retaining walls near me? Say no more, our contractors have got your back!
New Life Rockeries is a business that has been serving the Pacific Northwest region of the country for more than 35 years, offering our network of customers unparalleled landscaping services that help turn their vision into reality.
As the leading retaining wall contractors and business in the area, we specialize in providing our clients with:
Quality Work
If you are on the search for retaining wall experts & builders near me, then New Life Rockeries is the business for you. Our contractors and employees have undergone a rigorous training program, ensuring they have all of the required knowledge to provide you with a job well done. Precise and thorough in nature, they leave no stone unturned to ensure that your plans are followed down to the T.
Stress-Free Experience
Our primary business goal is to give you your dream garden without the hassle and stress you would usually get from other contractors. We will build your retaining wall exactly how you want it, completely hassle-free.
Full Commitment
We work to ensure your satisfaction every step of the way, providing you with clear, open, and honest communication throughout the construction process.
Versatility
Our business has been involved in hundreds of landscape maintenance projects over the years, creating retaining walls made of concrete, rocks, boulders, and more. Our contractors have a versatile set of skills that we are confident will meet your requirements at an affordable price.
100% Satisfaction
We are dedicated to ensuring that you are happy with the service we provide and promise to always deliver nothing but the best to our network of Pacific Northwest consumers.
Retaining Wall Near Me: The Different Sizes Available
Our contractors have created hundreds of retaining walls, all different shapes and sizes, so whether you have a specific vision for your garden or building site, or would like our landscape contractors to design it for you, we can help.
Some of the most common retaining wall sizes our business offers include:
Half Man & One Man Rocks
If you would like a small wall, our retaining wall builder will use half man and one man rocks to take your idea from concept to reality.
These rocks are made of natural stone and are perfect for creating walls that are up to four feet tall. They're also perfect for creating a foundation.
It's important to note that installing half man and one man rocks is more labor extensive and can, therefore, cost more.
Two Man & Three Man Rocks
Two and three man rocks are the most common sizes used when building retaining walls. Thanks to their larger size, our contractors can use machinery to move them, making it easier and faster to build your wall, and more economical in the long run.
Boulders
While not as common as retaining walls, boulders can act as beautiful statement pieces in your landscape design. Our company can locate boulders of various shapes and sizes to meet your landscaping needs.
The Best Retaining Wall Experts Installation Near Me
Time and time again, our business takes on new projects with customers who are unhappy with the quality of the work done by previous contractors.
If you're looking for retaining wall experts & contractors near me, you've come to the right place. Our company takes every project we undertake very seriously, working with only the highest quality materials and the best contractors to ensure that we provide you with a wall that is built to last.
To request a free quote or for more details about our service, get in touch with our team today!
Knowing Where to Place Your Retaining Wall
The placement and materials of your retaining wall is what will determine its success. That's why our business offers private consultations and quality services to all of our clients in the Pacific Northwest region of the country, including Seattle, Everett, Bothell, Mill Creek, Mukilteo, and their surrounding areas.
Before installing your unit, our business will undertake a thorough examination of your landscape to establish your property's water flow. We will also provide you with details such as the best materials to use and the ideal height for your specific wall.
Landscape Maintenance: How to Care for Your Retaining Wall
Yes, the quality of your retaining wall will be dependent on its material and location but, you also need to maintain it throughout the changing seasons.
Why? Because when winter hits, cracks can appear in the rocks. And, over time, this can spell disaster for the functionality of your wall.
With the above in mind, you should:
Inspect your wall regularly for cracks in the stone
Remove debris from drainage pipes
Treat eroded areas immediately
Replant dead spots
Avoid treating the wall before winter
Whether you have an older structure you'd like to repair and need help maintaining, or would like a new wall built for your outdoor landscape, New Life Rockeries is here for you!
Contact our business today to find out more about our services or to request a free quote.
Hiring Retaining Wall Installers Near Me at the Right Price: Request a Quote Today!
Looking for retaining wall construction near me? Get the best quality wall at the best value with New Life Rockeries. Our contractors can provide you with an estimate for the work based on your landscape, the size of the wall, and the type of rocks you would like to use. Plus, we will never ask you to pay for the job up front.
To find out more about our business and services, or to request a free quote from one our contractors, give us a call at (866) 758-3755 or fill out on our online contact form today!
Frequently Asked Questions
Why should I get a retaining wall in my garden?
The benefits of a retaining wall in your garden are endless. However, the main purpose of this type of wall is to secure soil on a steep landscape. That said, it can also enhance your garden's aesthetic appeal and increase your property's overall value.
Are retaining wall landscapers near me a good investment?
The answer is 100% Yes! New Life Rockeries has been the leading landscaping business in the Pacific Northwest for over three decades, preventing land run offs and boosting your curb appeal. Our contractors help transform your garden into your dream space with beautiful walls made of natural rocks that are both functional and aesthetically pleasing.
To find out more about our business and services or to get a free quote from one of our contractors, get in touch today!
What type of retaining wall is best for my landscape?
The type of retaining wall you choose will depend entirely on your ideas for your outdoor space and the functional aspects you are looking for. Our business sources our rocks from local quarries, ensuring we have the lowest carbon footprint while also providing our customers with the best quality wall possible for their landscape.
What is the most economical retaining wall?
The most affordable retaining wall are concrete ones. However, the cost of your structure will depend heavily on the size, materials, and of course your landscape. We offer all of our business clients private consultations, allowing us to provide you with an estimate for the work that needs to be done.
What are the easiest walls to build?
Short walls made of concrete are the easiest types of retaining wall to build. These concrete alternatives are fantastic options for a raised flower bed or for a front yard.
However, rock structures are typically more aesthetically appealing and will provide you with a larger increase in property value.
Can you build a retaining wall on a sloped yard?
Yes, we can! Our contractors have the knowledge and expertise to build a retaining wall for you, even if you have a sloped yard.
These types of retaining walls do typically take longer to build as the trenches need to be deeper, however, our business has the equipment to navigate almost all types of terrain so give us a call at (866) 758-3755 to request a free quote for our service today.
What other services does New Life Rockeries offer?
At New Life Rockeries, our business goal is to help you turn a previously uninspiring or unusable outdoor environment into a space that you are proud to call your own.
With this in mind, we offer everything from retaining wall construction and maintenance to landscaping, rockery constructions, and water features. We do not, however, offer any form of lawn care service.
To find out more about how our business can help you with your landscaping project or to request a free quote for our service, call (866) 758-3755 today.
Other Services We Offer:
Rockeries | Water Features | Stairs and Path | Hardscaping
Locations We Serve:
Seattle | Bellevue | Bothell | Issaquah | Kenmore | Kirkland | Lake Stevens | Redmond | Sammamish | Shoreline | Woodinville | Renton