When it comes to DIY landscape projects, it's important to understand how to complete a project both effectively and safely.
Moving boulders or large rocks isn't something that many homeowners consider getting help for. While it's fine to move them on your own, it's important to understand different techniques for moving boulders and rocks to avoid hurting oneself in the process.
There are superior methods for moving boulders and large rocks that will ensure that you don't hurt your back while doing it.
Here are 5 of the most effective methods for moving boulders and rocks to avoid injuring yourself.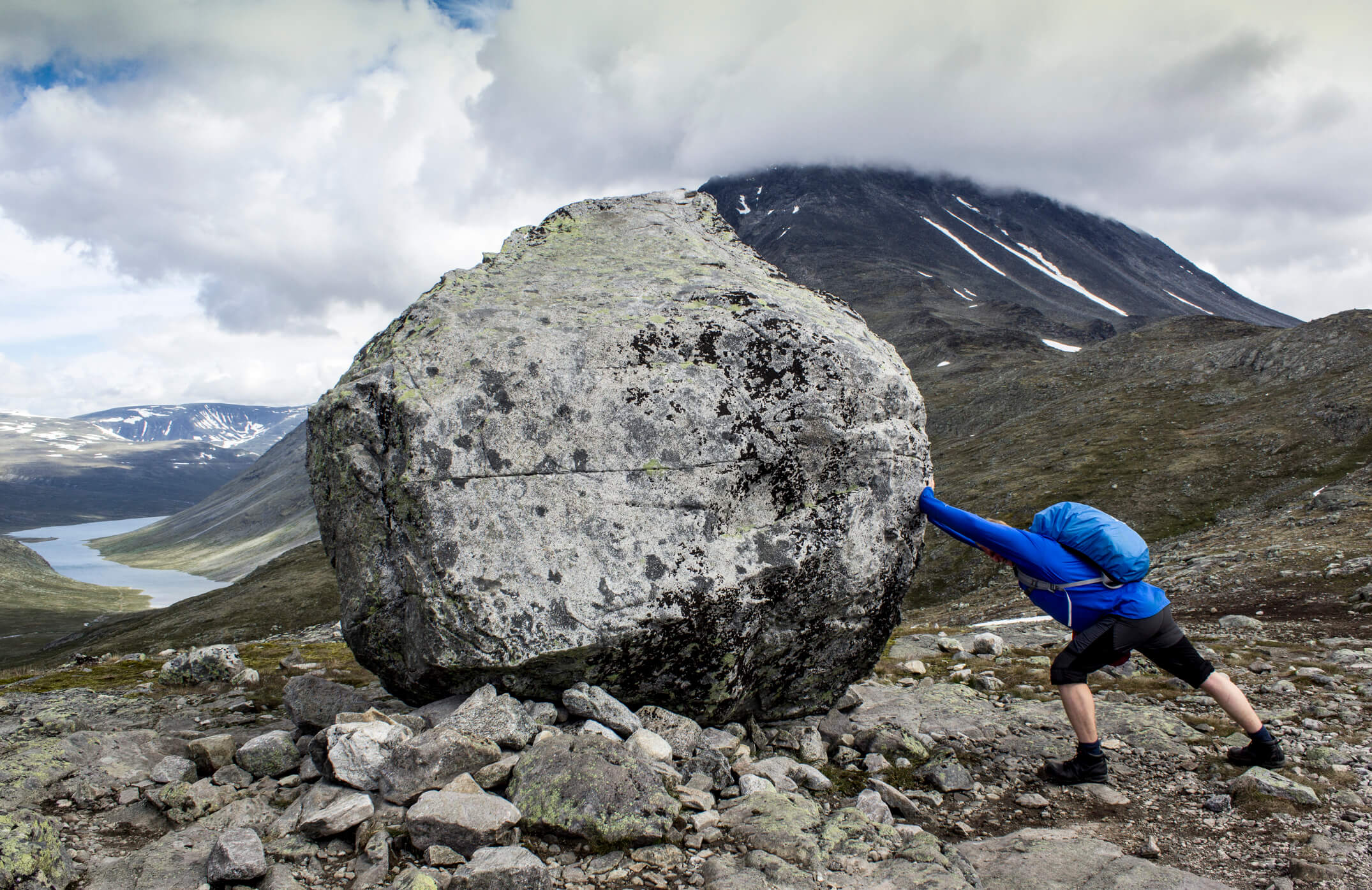 How to Move Large Rocks & Boulders: 5 Different Methods
1. Hoisting Method
For this method of boulder moving, you will need a heavy-duty nylon cord or rope and a rachet crank.
Start by securing the boulder or large rock with a cable, feeding the strap around an immovable object, and using the rachet to crank until the boulder has moved to where you want it to be.
While this can be a slow method for moving large rocks and boulders, it is effective. This method can be done by a single person and will ensure that you do not strain your back while moving big rocks around your landscape.
2. Dragging Method
For this second method, you will need a pry bar, a sturdy rope or nylon strap, and an old tire.
Start by prying the rock loose using a metal bar or piece of wood (aka your pry bar).
Once the boulder is loose, prepare your old tire. You should feed your nylon cord or rope through the tire and make a secure knot so that you are able to drag the tire with the boulder inside.
Use your pry bar to turn your boulder on top of the tire so that the large rock is wedged comfortably in the center of the tire.
Once your boulder is securely on the tire, it's time to move.
Securely grip the nylon or rope cord that is attached to the tire and keeping your back straight so as to avoid injuring yourself, start dragging the tire with the boulder to your desired spot.
3. Plank & Roller Method
Tools that you will need for this method of moving a boulder or rock include several sturdy pipes (preferably at least four), and a strong plank to rest the boulder on.
Start by placing the pipes at equally spaced distances from each other — close to where the boulder is that you'd like to move. Place the sturdy plank on top of the pipes and proceed to loosen the boulder from its current position using your hands or a pry bar.
Roll, scoot, or lift the boulder on to the conveyor belt-like invention and proceed to carefully push the rollers and boulder to the new location.
This may also be a slow process as you need to take care that the boulder doesn't fall off of the plank. Roll the planks to your desired location and unload your boulder.
4. Use a Sled
Winter sleds have more than one purpose in life. They can be used for fun during the winter and for yard maintenance during the summer.
For this method of large rock removal, you will need a sturdy sled and a pry bar.
Pry the boulder or rock loose and use your pry bar to hoist the boulder on to the sled (make sure that you cover the surface of your sled with a blanket first to avoid making scratches).
Drag the sled to your desired location before unloading your boulder at its new home.
5. Use a Wheeled Trash Bin
Another handy household item that can be used to move boulders or large rocks is a wheeled trash bin.
Simply lay your trash bin on its side, use a pry bar to loosen the boulder, and roll the large rock into your bin. Take care that you carefully turn your trash bin upright as you don't want the boulder inside to suddenly shift positions and damage your bin.
Roll your trash bin to the spot where you'd like to boulder to be and carefully turn your bin on its side again and empty the contents.
Also, feel free to refer to this video for more help:
Need a Hand Moving Boulders on Your Property? New Life Rockeries Can Help!
New Life Rockeries has been helping Washington State residents improve their outdoor aesthetics for years. If there is a boulder or large rock in your landscape that you would like to find a new home for or need help moving to another area of your property, we can help you.
Contact our team of landscape professionals or call them today if you need help with any landscaping projects.