Flagstone pavers make popular floors, patios, fireplaces, and pool surrounds. When it comes to maintenance, however, many homeowners are unaware of the best ways to clean their flagstone pavers. 
If you are looking for an easy guide that explains how to clean your flagstone patio, fireplace, or other flagstone surfaces, continue reading or contact New Life Rockeries today for additional guidance. 
How To Clean Flagstone Patio
Thankfully, flagstone patios aren't very difficult to clean or maintain. With a few basic household items and half an hour of time to spare, your flagstone patio should be guest-ready.
Here is our simple guide for how to clean your flagstone patio. If you're wondering how to clean flagstone fireplace or pool pavers, the same method works for those surfaces as well.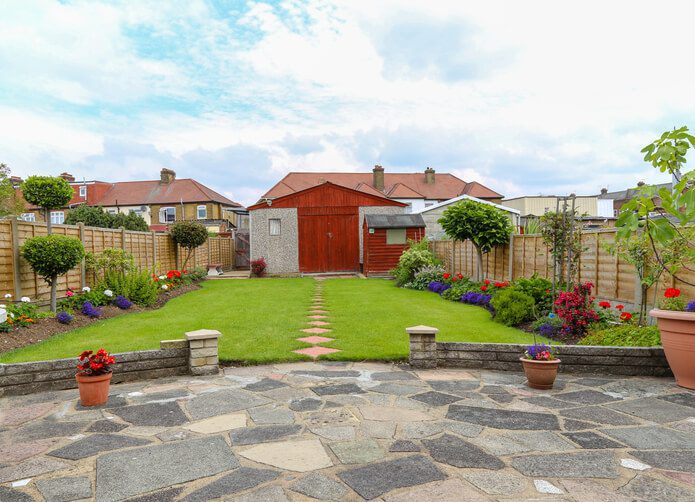 How To Clean Flagstone Pavers
Here are the basic three tools you need to clean your flagstone patio:
A bucket

Scrub brush

Dish soap
Steps for cleaning your flagstone patio:
Put a tablespoon or two of dish soap into your bucket.

Fill your bucket with warm water — make sure that the soap has dissolved and is sudsy in the bucket.

Dunk your scrub brush in your cleaning solution.

Scrub your flagstones until you've done the entire patio.
Tip: if there are stubborn stains on your flagstone patio, you can use ammonia mixed with water to clean them away. 
How To Clean Mold From Your Flagstone Patio or Pool Surround 
If you are dealing with mold growth on your flagstone patio, here are the tools you will need to get rid of it:
Vinegar (white vinegar works best)

Scrub brush 
Steps for how to clean mold from your flagstone patio:
Cover your flagstone patio with white vinegar.

Allow the vinegar to sit on the flagstones for a couple of minutes.

Rinse the vinegar from your flagstone patio.

Use your scrub brush to clean your flagstone patio.
Tips For How To Clean Flagstone Floor & Other Flagstone Surfaces
Here are three helpful tips for cleaning flagstone surfaces:
Avoid harsh cleaners as they can damage your flagstone.

Use ammonia safely, avoiding letting it touch your skin.

Sweep your flagstone patio frequently. This will prevent leaves and other debris from staining your patio.

Lastly, if you'd prefer not to do the flagstone cleaning yourself, hire a landscape maintenance company to do it for you. Rather than allowing an unmaintained patio to stress you out, hire a maintenance team to come clean it.
Flagstone Maintenance & Installation Services
Has the state of your flagstone patio been bothering you lately? If you are tired of the ill-maintained aesthetic your flagstone is emitting and you want a professional maintenance team to clean it up and get it into tip-top shape, give New Life Rockeries a call.
Our landscape maintenance team has experience maintaining flagstone patios and we'd like to use our skills to bring beauty to your outdoor space.
In addition to flagstone maintenance services, our team is able to install gorgeous flagstone patios as well. We'd be more than happy to discuss your project and create a customized quote for installing your flagstone patio — just give us a call to get started.