What is the best way to find a reliable retaining wall contractor? And what are the benefits of working with a contractor rather than simply doing the work yourself? 
If this is your first time hiring a block or concrete retaining wall contractor, continue reading to learn about the benefits of hiring a retaining wall contractor as well as things to consider before signing the contract.
Benefits of Hiring Retaining Wall Contractors
Here are some of the top benefits of working with a skilled retaining wall contractor:
Retaining wall contractors have connections.

They work with wholesale material providers and know where to get the highest quality rock for your project.

Contractors get the best deals.

Since retaining wall contractors work closely with wholesale material providers, they are able to get a better deal on materials than most homeowners would be able to get from the same wholesaler.

Contractors do the job right.

Retaining wall contractors are trained and experienced when it comes to building retaining walls. Working with a retaining wall contractor means that you can expect to see the best results from your project. 

Contractors build high-quality retaining walls.

Hiring a retaining wall contractor means that you can have confidence in the quality and sturdiness of your retaining wall.

Contractors save you the stress of having to build the retaining wall yourself.

If retaining wall contracting isn't your profession, it will be stressful to attempt to source all the materials and construct a retaining wall on your own. Rather than going through all of the stress and time needed to plan and build a retaining wall, hire a reliable contractor to do it for you.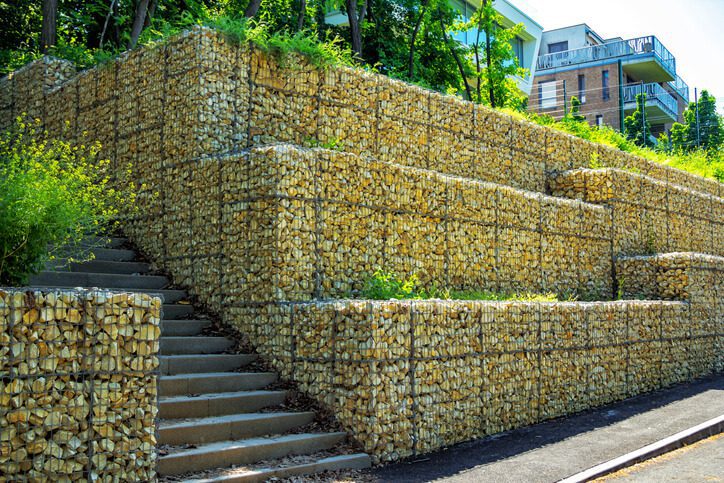 Things To Consider When Hiring a Retaining Wall Contractor
Here is a list of things to consider when hiring a concrete or block retaining wall contractor:
Insurance.

Make sure that the retaining wall contractor you hire has appropriate insurance (and documentation to prove it). 

Price & Quality.

Bear in mind that well-made retaining walls beat poorly made ones any day. If you are deciding between a cheaper contractor and a more expensive, reliable one, opt for the contractor that does the highest quality work.

Contracts.

Don't just skim the contract when the retaining wall contractor sends it over. Read it thoroughly to ensure that your project has been described correctly. This will ensure that you end up with the retaining wall that you want.

References.

Only hire a retaining wall contractor that can provide you with reliable references. Look on the contractor's website to see if they have a client review section and read what past clients have to say about their contracting services.
How To Find Retaining Wall Contractors Near Me
A common question that pops up when homeowners are searching for a contractor is, "how do I find a retaining wall contractor near me?"
Here are three tips for finding the best retaining wall contractor near you:
Do an online search.

Google phrases like, "retaining wall contractor near me" or "retaining wall contractor in [city]."

Ask around.

If you have friends or neighbors who have hired a retaining wall contractor in the past, ask if they'd recommend the contractor they used.

Speak with a contractor about your project.

This will be the best way to get a feel for a specific contractor and see if working together is the right move.
Contact a Reliable Retaining Wall Contractor Today
If you are looking for a reliable, seasoned retaining wall contractor, give New Life Rockeries a call today. 
Our team of professional landscapers and retaining wall contractors has been bringing beauty to Washington landscapes for more than 35 years. We want to help you get the retaining wall and landscape that you've been dreaming of. 
To speak with our retaining wall contractors or to receive an estimate for your project, contact New Life Rockeries today.