When it comes to sloped or terraced properties, nothing is quite as handy as a retaining wall. Not only are they gorgeous and add a brilliant aesthetic to the yard, but they are quite practical and useful at helping you utilize your outdoor space.
However, when winter arrives, your retaining wall will likely have to be taken care of, lest the cold weather can wreak havoc on the foundation and the stones built into it. So, with that in mind, we want to take a moment and discuss the various ways that you can keep your retaining wall in tip-top shape this winter.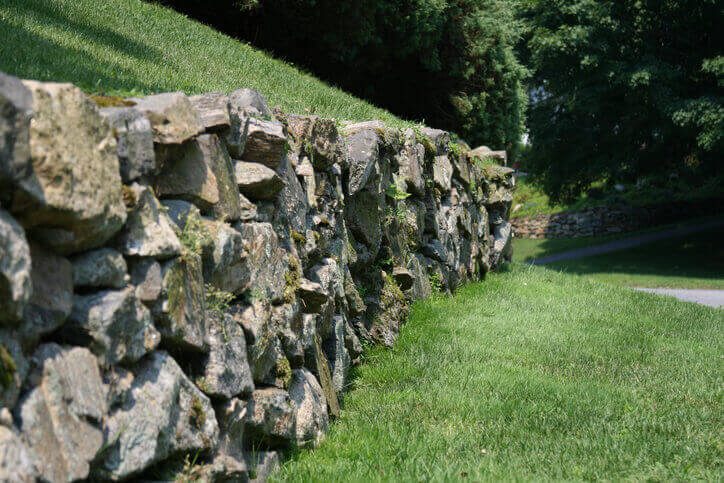 Why Maintaining Your Retaining Wall is Crucial
At first, you may think that your retaining wall is okay, even if it starts to show signs of wear and tear. After all, it's all stone anyway, so what's a little cold weather going to do to it? Unfortunately, if you ignore the signs, it can spell disaster. It may not happen immediately, but the issue has to be addressed sooner rather than later.
For the most part, cold weather can create cracks in the stones of your wall. Even a small break can lead to a bigger one, which can impact the integrity of the wall, leading to its eventual collapse and, unfortunately, you can't just grab cement out of your emergency kit to fix them. Assuming that you don't want to have to rebuild your retaining wall (or a section of it anyway), taking care of these cracks as soon as possible is in your best interests.
Here are some steps you can take to help prevent disaster.
Inspect the Wall Regularly
If your yard is buried in snow, then don't worry about going out and inspecting the retaining wall. It'll be more trouble than it's worth. However, once it's uncovered, you should go through and do a thorough inspection of it at least a couple of times during the winter months. Ideally, you should inspect it at the beginning, middle and the end of the season.
When inspecting your retaining wall, look for both cracks in the stones themselves, as well as gaps in the mortar between them (assuming that there is mortar). As with cracks, missing mortar can only worsen over time, so you'll want to patch any gaps immediately if possible.
Another thing to watch out for is bulges in the wall. If you notice that some sections are bowing out, then it means that the soil is shifting, and it could cause a breach sometime soon. Depending on the severity of the bulge, you may want to call in the professionals as soon as possible so that they can assess the potential for a breach and correct it immediately.
Don't Treat Your Wall Beforehand
It's natural to want to coat your retaining wall in various ice prevention solutions before any snowfall sets in, but the fact is that those kinds of compounds will slowly erode the stones, which will wind up doing more harm than good. Consistent retaining wall contractors maintenance is key to keeping your wall in the best shape possible.
Remove Debris From Any Drainage Pipe
In some cases, your retaining wall will have a drainage pipe installed so that water runoff doesn't pool at the base of it. Ideally, this pipe will be made of thick corrugated plastic so that it won't rust or crack when cold weather sets in. However, it's easy for the tube to get clogged, especially if you have snow in your area.
Be sure to inspect the pipe regularly and remove any blockages that occur. Once the snow and ice melt, you'll need the pipe to work as efficiently as possible, meaning that clogs could lead to water damage for your wall's foundation.
Fill in Eroded Areas
After winter has passed, you'll likely notice some effects of erosion, as water runoff and snowmelt will take some of the soil with it when it thaws. Any depressions in the ground around the retaining wall, particularly on the top surface, can lead to pooling, which will erode the stone faster. Thus, you will want to replace any missing soil quickly, so that you don't get pools of water every time it rains throughout the year.
Replant Any Dead Spots
Overall, soil integrity is going to have the most impact on how well your wall stays in place. If the soil behind it starts to loosen, then it can collapse the structure of the retaining wall much faster than any surface cracks. Fortunately, one of the best ways to keep the dirt compact and sturdy is to use plants to maintain your retaining wall. Their roots will help hold the soil in place and reduce erosion.
In the spring, you'll likely notice some dead spots along the wall, so you should take the time to replant as necessary. Remove dead patches of grass and seed the ground so that new grass will take hold. If you let the dead parts multiply, it could lead to collapse down the road.
Contact B&D Rockeries Today
Don't let the winter affect your retaining wall. Whether you need to repair an existing structure or you'd like to add a retaining wall to your property, we can help. Contact us today to get a quote and see how we can transform your yard into a spectacular one.