When it comes to retaining wall materials and how to choose the best one for your landscape aesthetic, you'll be glad to learn that you have a lot of options.
Retaining walls are popular throughout Pacific Northwestern landscapes for a number of reasons. Firstly, they prevent soil erosion — which can alter and deform your landscape significantly. Secondly, they enhance landscape drainage, ensuring that your yard stays dry and firm. Thirdly, retaining walls add texture and dimension to your outdoor aesthetic.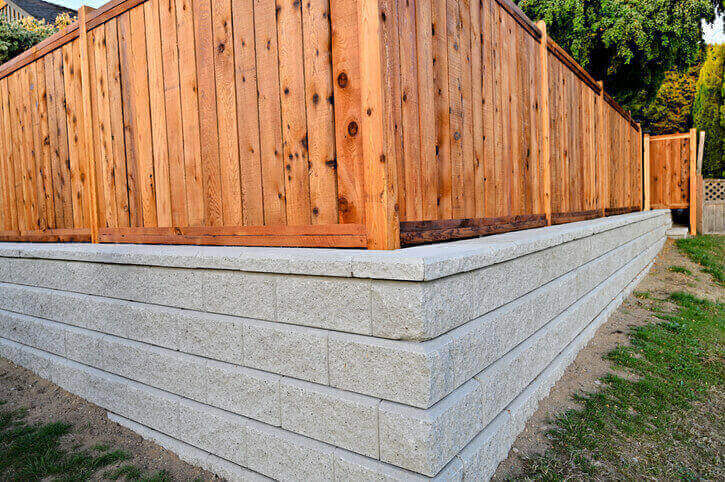 If you're in search of the best material for retaining walls, continue reading or get in touch with New Life Rockeries today to speak with a landscape professional. 
Strongest Retaining Wall Materials
Whether you are looking for the strongest or cheapest material to build a retaining wall out of, the following sections contain a brief overview of the various materials that can be used for your wall. 
Wood
While wood is a more accessible material and is DIY-friendly, there are a number of drawbacks to having a wood retaining wall. Due to the damp environment of the Pacific Northwest, wood retaining walls are likely to rot and decay at a much quicker rate than other materials. 
If longevity isn't a hang-up for you, wood retaining walls make an excellent choice for almost any landscape as they are stylistically diverse and naturally beautiful.  
Concrete Block
Concrete blocks provide a monotone retaining wall that can stand up to four-feet tall. Blocks can be used to create curved walls and are a popular choice for homeowners who enjoy a mid-century architecture style. 
Two downsides to concrete block retaining walls ghostwriting are that they cannot be taller than Ghostwriter four feet and that their lack of footings could affect their durability. 
Poured Concrete
Poured concrete retaining walls are sleek in appearance, complimenting modern landscape designs Ghostwriter BWL . Concrete retaining walls are stronger and more durable than concrete block walls but may crack under certain conditions. This type of retaining wall is also not a DIY project and requires a skilled professional to build. 
Brick
Classic, strong, and aesthetically pleasing, brick retaining walls are among the most popular due to their durability and traditional style ghostwriter. As with many retaining walls, brick walls require lots of skilled labor and are not usually suitable for DIY installations. 
Stone Veneer
Stone veneer provides a unique, natural-looking retaining wall that is highly customizable diplomarbeit schreiben lassen. A benefit of stone veneer is that it is relatively durable and any height of retaining wall may be built using it. 
How to Choose the Best Retaining Wall Backfill Material
The best backfill material for retaining walls depends a lot on how good your landscape's drainage is bachelorarbeit schreiben lassen, how much rain your yard receives, and other factors. 
In general, three of the best retaining wall backfill materials include: 
Gravel 

Aggregate 

Native soil 
Ideal base material for retaining walls is crushed rock.
Contact a Custom Retaining Wall Installation Service Near You
If you are in need of additional tips for choosing a retainer wall material or you would like to get a quote for your retaining wall contractors for your installation needs, get in touch with New Life Rockeries today. 
Our landscaping specialists would be happy to discuss retaining wall material options with you to ensure that you get a retaining wall that reflects your character and style.