There are four basic types of retaining walls, each with a unique appearance, durability level, and lifespan.
Whether you're considering having a retaining wall installed for practical or aesthetic reasons, New Life Rockeries' team of landscape professionals can help you find the perfect addition for your outdoor space.
Continue reading to learn about the different types of retaining walls or contact New Life Rockeries today with your landscaping questions.
The 4 Different Types of Retaining Walls
The type of retaining wall you choose for your landscape will impact the overall aesthetics, practicality, and feel of your space. This is why understanding the different types of retaining walls will aid you in choosing one that complements your space while also improving outdoor functionality.
The four main retaining wall types are detailed in the following sections.
Cantilever Retaining Wall
A cantilever retaining wall (sometimes referred to as a reinforced retaining wall) has steel bars that run through it that affix it to its foundation (usually a slab foundation buried beneath the soil).
Due to its foundation, this type of wall is highly durable and is often used for commercial retaining walls.
Gravity Retaining Walls
One of the most common types of outdoor walls, gravity retaining walls rely on their own mass to contain soil. Blocks, pavers, and unmortared stone are all used to build gravity retaining walls — ensuring that they are stylistically versatile while also being durable.
Anchored Retaining Walls
The method of anchoring a retaining wall is done by placing anchors beneath the soil and attaching cables or strips to support the facade of the wall.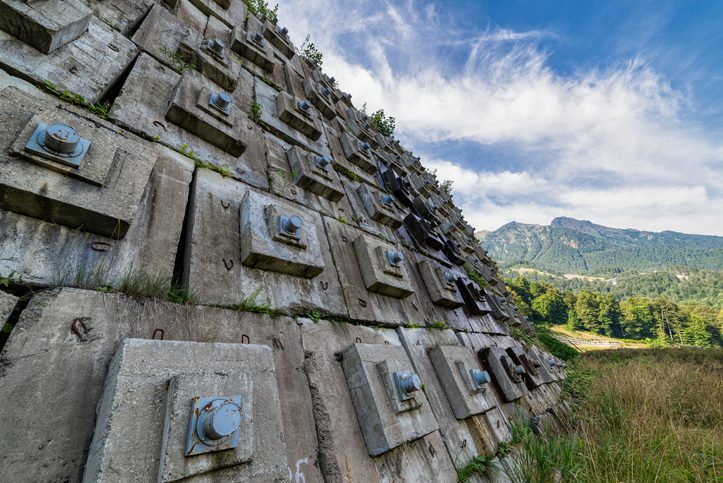 This method creates a durable, highly-versatile retaining wall that matches any landscaping style.  Anchoring also enables the wall to support more weight — making it perfect for preventing soil erosion.
Piled Retaining Walls
One of the most basic kinds of retaining walls, piled walls take up minimal space and are ideal for landscapes that need a wall but don't have room to construct a bulkier type of wall.
Piled retaining walls do best in soft soiled landscapes and often need a vertically corrugated structure to provide additional support.
Reasons to Have a Retaining Wall Installed
Retaining walls are a practical and stylistic addition to any outdoor space. Some of the main benefits of having a retaining wall installed include:
They add texture to your space.
They divide up your landscape.
They prevent soil erosion.
They assist in landscape drainage.
They are stylistic additions.
Choosing a Reliable Retaining Wall Installation Service Near You!
If you have additional questions about the different retaining walls available or you would like to receive an estimate for having a wall installed at your residence, get in touch with New Life Rockeries today.
Our team of landscape specialists would be happy to help you choose a retaining wall style and material to ensure that you get the best possible addition to your landscape.