Ever wondered how to lay flagstone yourself? While home and garden social media accounts frequently tout laying flagstone as a great "DIY" activity for your yard, there's a bit more to it than most people expect. 
Like all things, doing it RIGHT is different than just getting the job done. With that in mind, we at New Life Rockeries think it would be helpful to introduce you to what goes into installing flagstone, and then you can decide if you're up to the task!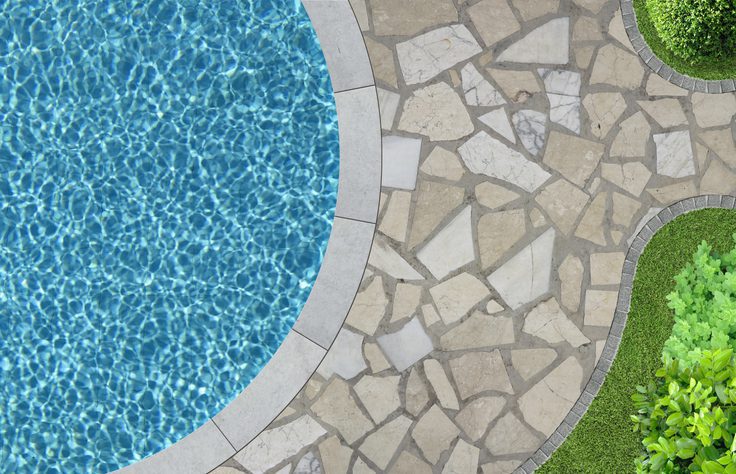 Tools of the Trade
No flagstone installation can begin without the appropriate equipment first! With that in mind, here are the minimum tools we recommend having on hand.
Flat nose shovel

Wheelbarrow

Metal rake

4' level

Large bucket

Small hand shovel

Measuring tape

Hand tamper
Of course, you can always get fancier — but these are enough for you to get started.
Laying Flagstone
Laying flagstone is best summarized in the following seven steps:
Planning

Digging

Adding base layer gravel

Installing leveling sand

Puzzle assembly

Level that flagstone!

Finish up the gaps
Any proficient flagstone installer will tell you that each step to the process here is its own micro-form of art. But these are the basics to get the job done.
How to Lay Flagstone – The Process
Below, we'll give you some insight on what you can expect if you become the new architect for your flagstone landing!
Planning: 

Before we can talk about setting flagstone, you're going to need to plan out exact dimensions for your flagstone patio. 

You'll need to consider the grading of your yard, stone size, and any utility lines before you break ground.

Digging: 

Knowing how to install flagstones means being handy with a shovel. Once you've got a hunch of how big your flagstone patio is meant to be, you'll want to dig down about 6". 

This gives you 3-4" for the gravel base, 1" for any necessary leveling material, and the slabs themselves, of course. 

Add your Gravel Base Layer:

Remember that 3-4" of gravel we mentioned? You'll need to fill in your dug-out trench with a sturdy base layer of gravel and compact it nice and tight. It's the foundation, after all!

Leveling Sand:

There are specialized sand and rock products that can assist you in leveling your base layer. This will be important for having an even patio to walk on.

Puzzle Assembly:

Now that you have your flagstone base, time to let loose and design your patio! Piece together all the flagstones and find the fit that's right for your yard.

Level it out: 

Take your time in getting everything level.

Fill in the Gaps:

Whether you use soil or moss, it's the finishing touch! Fill in the space between each slab.
How to Install Flagstone
These are the basics of how to lay down flagstone. But a professional job always outshines a home hobby project. New Life Rockeries is the authority in all matters of the rock and landscape. Click here to discuss your next yard project with us.