Is your patio missing something? Are you looking for ways to spruce up your patio while also adding to the convenience of your outdoor space?
If so, there are a couple of different ways to do that, our favorite being building a sitting wall.
Sitting walls are wonderful additions to back patios because they are aesthetically pleasing, simple, low maintenance, and add to the convenience of your patio.
If you are planning on building a sitting wall on your patio, here are 7 easy steps to follow to get your project on the road.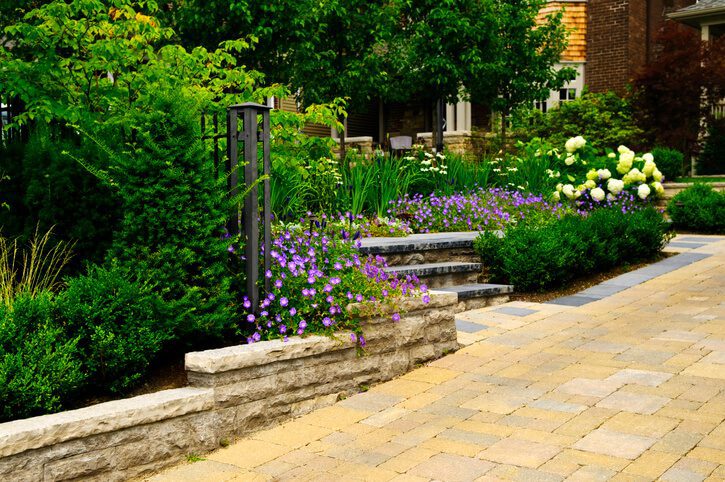 How To Build A Sitting Wall 7 Steps
1. Make a Timeline
How much time are you planning on dedicating to building your patio sitting wall?
Your project timeline will determine things like cost, materials, and design to some extent, so you should first focus on figuring out how much time you have to invest in building your patio wall.
If you have a vision for the sitting wall but are unsure if you have the time to spare to build it, consider talking with an outdoor landscaper.
Maybe you don't have the time to build the wall yourself, but you have the option of working with a professional landscape contractor.
If you would like to complete the project yourself but want a professional opinion from a local landscaper, contact New Life Rockeries today to speak with a landscaping expert.
2. Find the Perfect Location
Where would you like your sitting wall to be?
One of the best locations for sitting walls is on the patio, as it is a location where people congregate during the spring and summer months.
Spend an afternoon marking out where you would like your sitting wall to be on your back patio to get a rough idea of the size and dimensions of your wall.
Pro-tip, consider building the sitting wall in an area of your patio that is covered as Washington State is notorious for having drizzly weather.
3. Get the Right Materials
Do you want a stone or brick sitting wall? Finding the right materials for your patio sitting wall will serve to help you achieve your desired aesthetic.
Look up patio sitting wall designs and find a few styles that you like. Find similar materials for building your own patio sitting wall.
If you are unsure where to look to find certain materials, consider contacting a professional landscaping service as they are familiar with material providers in the region.
4. Lay the Foundation
Now comes the fun part, starting your project. Laying the foundation for your stone patio sitting wall will determine the sturdiness and levelness of your wall.
This is an important step, and if you're unsure whether or not you can successfully pull off laying the foundation, consider calling a professional landscaping service to help you out.
Foundation laying tools such as a level are essential during the foundation laying process in order to create a beautiful, symmetrical sitting wall.
5. Build Your Sitting Wall
Once the foundation has been securely laid, continue building your patio sitting wall one course at a time. After each new course is laid, take a step back, and survey your work.
Make sure that your sitting wall is symmetrical and level.
If you are not careful to ensure that your wall is level after every course is laid, you will end up layering the problem, which will result in an unsatisfactory end result.
6. Fill in the Gaps
Make sure that all gaps are adequately filled in using a material that is long-lasting and suiting to your wall. Gaping crevices between course layers is unappealing and does not look aesthetically pleasing on your patio.
Materials that are commonly used to fill in sitting wall gaps are sand or other fine materials.
7. Polish it up
Add your finishing touches!
Clean up the patio and around your wall. Wash your wall down as it may have become dirty during the building process. Add a few other patio accents to complement your sitting wall.
You might want to consider adding a low table to accompany your sitting wall or a little area rug to cozy up space.
Adding the finishing touches to your outdoor patio will complete your home and make your outdoor space comfortable for your family and visitors.
Talk With Patio Wall Building Experts
If you would like to have a patio wall built but don't have the time or know-how to complete the job, why not hire a professional landscaping service?
New Life Rockeries is proud to offer professional landscaping services to residents in Seattle and the surrounding areas. We want to help homeowners accomplish their outdoor aesthetic goals through our services.
If you have questions about having a sitting wall installed on your patio, contact New Life Rockeries to receive a professional quote about the timeline and costs of your project.